Moriarty- Edgewood Athletics
We are proud to offer a variety of athletic activities for our students to participate in throughout the year. Playing a sport isn't just great exercise - it also helps to build good character skills like cooperation, good sportsmanship, respect, and lasting friendships.

We invite all students who wish to participate in our athletics program to see what we have to offer. If you would like to join the Pinto team ranks, please give us a call.
You can reach the athletics department at (505) 832-5951.
Go Pintos!
Athletics News & Announcements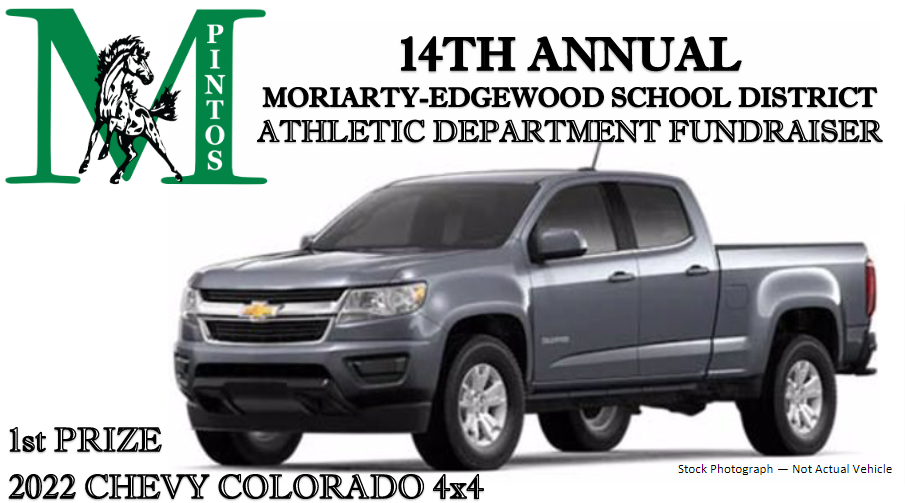 A big Thank You to our community for all the generosity and support of the 14 Annual athletic truck raffle. This was a huge success. This year this event generated over $81,000!
All raffle winners will be in the link below:
Spectators are allowed
--All of our home games are available on the NFHS network for your convenience.

NFHS Moriarty Pintos Home Events
-Students interested in trying out for Football, Cross Country , Soccer and Volleyball must turn in a completed physical to the athletic office on or before the first day of your official season.
- Fall Sports Officially Begin August 1st,(Football) August 8th (Volleyball, Cross country, Soccer)
YOU MUST HAVE ALL PAPERWORK COMPLETED AND TURNED IN TO THE ATHLETIC OFFICE BEFORE THE FIRST OFFICIAL DAY OF PRACTICE.

IF YOU HAVE ANY QUESTIONS EMAIL
pinto.athletics@mesd.us
PASSES ARE FOR SALE AT ALL HOME EVENTS
ALL SEASON- ADULTS $70, NON MESD STUDENT & SENIORS $35, FALL SEASON $50 SENIORS OVER 60 $25
K-5($10)MESD STUDENTS ONLY
Important Athletics
Documents & Forms
Below, you will find links to important documents and forms frequently used by the Athletics Department. If you do not find what you are looking for here, please contact us and we will be happy to assist you.
Student Athlete Eligibility
& Participation Forms/Documents
Important Athletics Documents

Athletics Equity Act
Report Documents