Moriarty- Edgewood Athletics
We are proud to offer a variety of athletic activities for our students to participate in throughout the year. Playing a sport isn't just great exercise - it also helps to build good character skills like cooperation, good sportsmanship, respect, and lasting friendships.

We invite all students who wish to participate in our athletics program to see what we have to offer. If you would like to join the Pinto team ranks, please give us a call.
You can reach the athletics department at (505) 832-5951 or email pinto.athletics@mesd.us
Go Pintos!
Looking for the new soccer fields?
The new soccer fields are part of the new Pinto Multi-Sports Complex located just north of the Moriarty High School Gym. You can access parking off of 1st Street south of Martinez Road.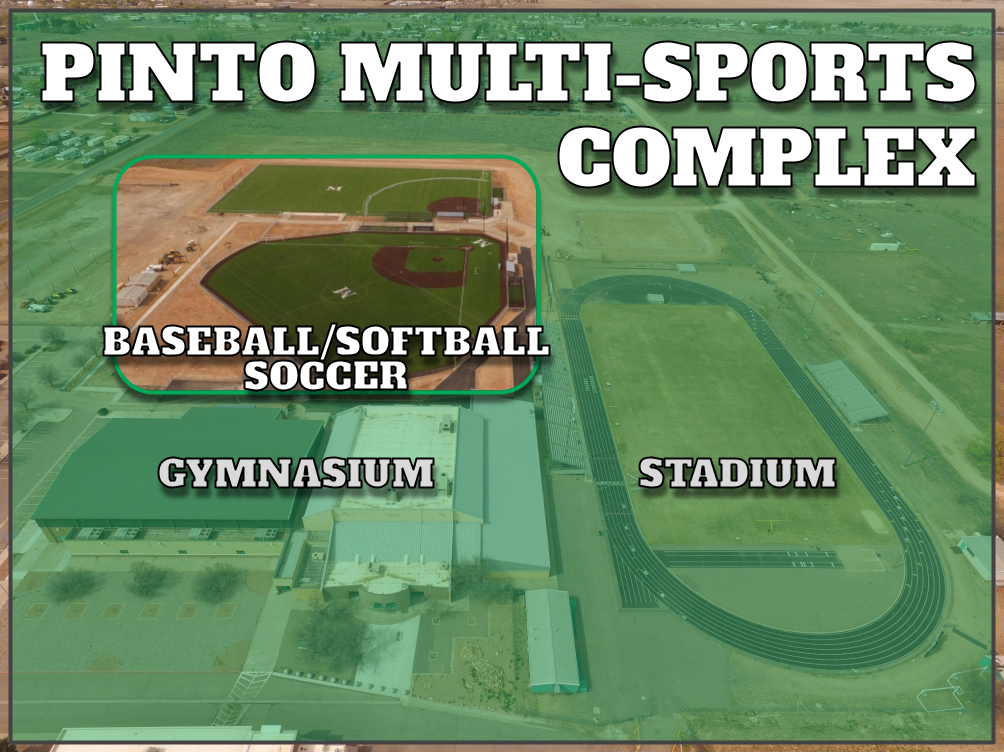 ADMISSION PRICES

All Non-Tournament High School Athletic Events:

$5.00

Moriarty High School Tournaments:

$10.00 / day

Moriarty/Edgewood Middle School Events:

$3.00

Moriarty/Edgewood Middle School Tournaments:

$5.00
Athletics News & Announcements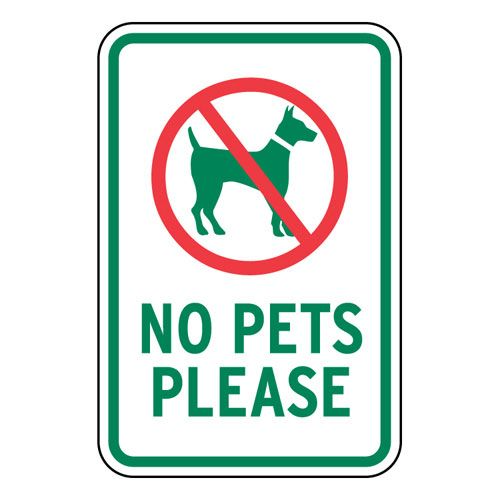 THANK YOU FOR YOUR UNDERSTANDING
NO PETS ALLOWED AT MORIARTY-EDGEWOOD SCHOOL DISTRICT ATHLETIC VENUES
THANK YOU TO ALL OF YOU WHO SUPPORTED
The 15th Annual
Moriarty-Edgewood School District
Athletic Department Fundraiser
This year's drawing was held on April 19th at 6pm
With your support our Athletic programs at Moriarty High School, Edgewood Middle School and Moriarty Middle School 6th -12 grade raised over $80,000 for the 23-24 Seasons.

We have already begun preparing for the 16th Annual Athletic Truck Raffle!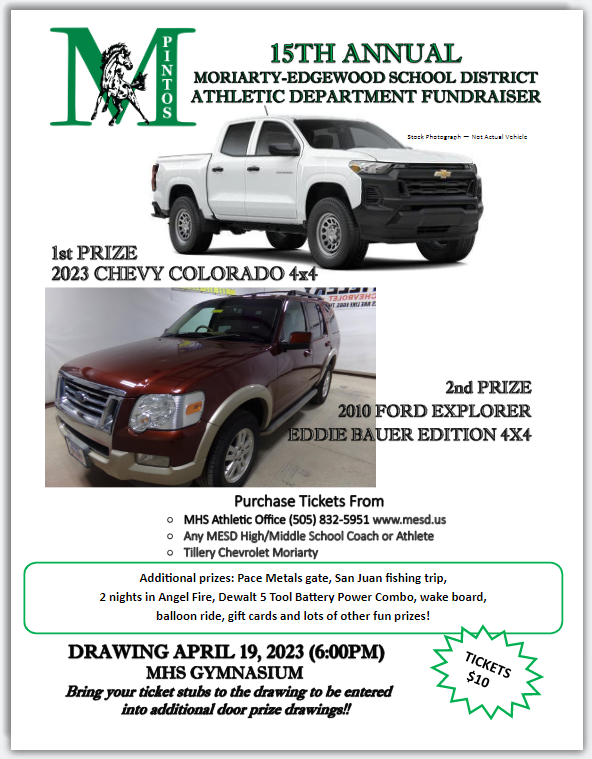 --All of our home games are available on the NFHS network for your convenience.
NFHS Moriarty Pintos Home Events

IF YOU HAVE ANY QUESTIONS EMAIL
pinto.athletics@mesd.us
PASSES ARE FOR SALE AT ALL HOME EVENTS
ALL SEASON- ADULTS $70, NON MESD STUDENT & SENIORS $40,
FALL SEASON PASS-$50 NON MESD STUDENTS & SENIOR (OVER 60) $35
K-5($20)MESD STUDENTS ONLY
Important Athletics
Documents & Forms
Below, you will find links to important documents and forms frequently used by the Athletics Department. If you do not find what you are looking for here, please contact us and we will be happy to assist you.
Student Athlete Eligibility
& Participation Forms/Documents
Important Athletics Documents

Athletics Equity Act
Report Documents